"¿No estoy yo aquí que soy tu madre?"
I hadn't expected the drumming. I felt the pounding in my chest before I smelled the copal. Smoke billowed up from the plaza filled with tens of thousands of pilgrims. Dancing, crying, nursing mothers everywhere . . . images of la Virgen were everywhere . . . large statues, faded prints and homemade altars tied on backs, strapped to wheelchairs and strollers and carried in full, heavy arms. The crowd was dense, active and alive. Feather headdresses, costumes, masks . . . crawling, dancing, smudging, praying . . .
The Old Basilica on my left has fallen forward and is leaning into the crowd. Its unstable construction on hallowed ground inspired further reverence. I crept in and lit a candle, naming each child in our group. Praying for every child who suffers, praying for every mother and father who nurtures them, tears spilled down my cheeks. On my right was the New Basilica, beautiful and brassy in its 1970's elegance. Inside a priest in long white robes called and answered liturgy with the packed congregation who spilled out into the plaza. I could barely hear his voice over the constant beating drums that pulled me back outside where the ritual was more primal and raw. Like my boys, my heart.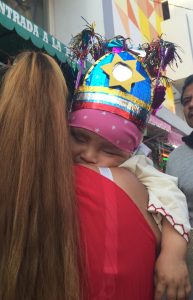 I felt quiet.
Even among the chaos. I was filled with overwhelming gratitude that Rob had brought me here to The Basilica of Guadalupe. On this day, at this site, 485 years ago, Our Lady first appeared to Juan Diego. Millions and millions of pilgrims seeking her presence have traveled here since. It was a privilege to be one of them. Getting out of town for me is impossible but taking a vacation had become critically necessary for my mental health. It was beautiful to be welcomed to Mexico City by friends with a cup of sweet, milky pulque. I had sacred intentions for this trip. I needed more than relaxation, I needed the numinous. I work in hospice. I advocate for sick children. As a mother, stepmother, wife, sister, daughter, friend, and woman on this planet I sit with, hold and carry a lot of pain. The kind of suffering that often cannot be remedied - not without a miracle.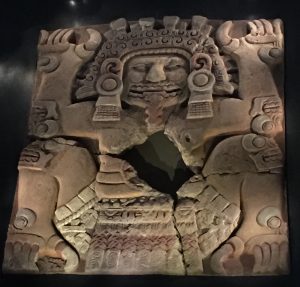 In awe of all around me, I thanked Our Lady for her repeated insistence that her chapel be built on this site, so that the millions of us craving her blessings have a place to connect. In Her different incarnations, the Goddess has been known and honored by the peoples inhabiting this exact spot for centuries and I could feel her now. At the Templo Mayor the day before, I related to a 15th century carving of the dismembered moon Goddess Coyolxauhqui. A sculpture of Her primordial mother Coatlicue is across the city in the National Museum of Anthropology and History. Street after street, altars to Her are carved into Colonial architecture and fitted into contemporary street lights. There are altars in the altars. The Mother is everywhere in Mexico City. She always has been.
| | | |
| --- | --- | --- |
| | | |
We all have ways of being with fear and coping with our suffering. Being in the presence of the divine feminine is mine. When epilepsy turned our life upside-down, She met me in the mystery as my comforter and guide. Sometimes a mother needs another mother. Sometimes I need her sacred inspiration because sometimes I can't accept my own fate. She is often my soft lap, a gentle place to lay my head . . . when I don't want to do it anymore . . . because I can't think of what else to do . . . because there is nothing more to be done anyway. She is there to remind me that I am not alone, and there in her presence I had no doubt.
"Am I not here, I who am your mother?"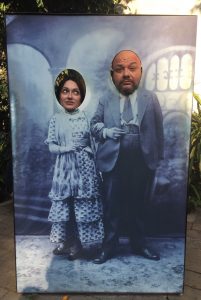 *** I am so grateful for everyone who supported this much needed pilgrimage: Sol from SSS Tattoo, Xoch from BlackFlag Crew Tattoo and Frank Chavez from Flying Panther Tattoo for being such generous and accommodating guides, my mother-in-law Evelyn for tending to my savages back home, and my husband Rob for knowing what was needed. I love you.