"Wherefore, the days will come that no flesh shall be safe upon the waters. . . . and the destroyer rideth upon the face thereof." D&C 61:15-19
When my 3 year-old son became obsessed with The Nightmare Before Christmas I tried not to be concerned. Sure, it's a kids movie but I don't know . . . He was just so little and scary movies have never been my thing. I was raised a member of the Church of Jesus Christ of Latter Day Saints. In their pantheon Satan is a very real being, eagerly awaiting in the shadows with his army of fallen angels for any opportunity to be called into this physical world. Growing up we did not speak of the dark. To do so would be an invitation. We never swam on Sunday. Satan rules the waters.
He had his first seizure in the shower the evening his great grandmother was laid to rest. His second was on a rainy day on the slick concrete patio in our backyard. I thought he'd been wild and slipped in the silliness, until I realized he hadn't reflexively caught himself either time. That winter was stormy, dark and unrelenting. He seized all day, every day.
El on the left, my son on the right. For some reason, we sadly shaved off his beautiful, golden mullet right after he was diagnosed.
Eleven, the young heroine known as "El" in the Netflix Original Series Stranger Things, also knows this to be true about water. A group of kids find her in the forest while searching for their best friend Will who has disappeared. El has escaped a research facility where men in suits and uniforms have been experimenting on her to learn more about how to exploit her mysterious, psychic abilities. To show his friends where Will is, she flips over a game board so the black bottom is on top. Will has been captured by the monster in "The Upside Down" and El knows how to get there. Through water.
Will got there through electricity. The power at home began to act up after he disappeared and his mother, Joyce, starts to piece it together. Lights flicker in response to her questions. Music spontaneously plays. Telephones catch on fire. Strange things crawl behind thin walls. Men in suits and uniforms try to convince her that Will is gone, that she is hallucinating, crazy from grief. But she knows something mysterious and horrible out there has stolen her boy. Despite strong efforts to stop her, Joyce persists. She knows she must enter The Upside Down to save him and she is running out of time. . .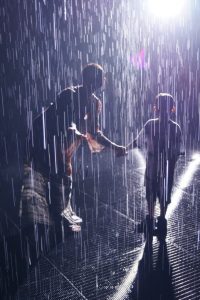 I wonder how the Duffer Brothers who co-wrote/directed Stranger Things know so much about epilepsy and if they love Homer as much as I do. Because I am Joyce and we are Demeter, the Greek goddess of the harvest. When her child disappeared, she too journeyed to the ends of the earth, became crazy/angry with grief, confronted the gods and forged deep into the underworld to save Persephone. This specifically painful journey of motherhood is so sacred it's been captured in myth and is still being retold centuries later.
Seizures have cursed man since the beginning of time and it's not hard to imagine why so many cultures have understood epilepsy to be a supernatural affliction. "Grand-mal" seizures easily look like possessions and my son's "drop attacks" look like a paranormal assault. Encouraged by the art of Dr. Lakra, I've imagined what the horrific demon looks like who lives in our walls and haunts my son. He is not thin, pale and faceless like the monster who hunts Will. He is one big fist.
He beat the shit out of my son and threw us into the deep end of The Upside Down. "Good Luck. This will be the rest of your life," said the Dr. in a suit and uniform who wouldn't talk to me about cannabis three years ago because the FDA and our government blah blah . . . What? Oh the same government who owns the patent on the medicinal properties of the same cannabis that they also gave a schedule 1 restriction to denying its medicinal value? I see. It's like that in The Upside Down.
"There isn't enough research to support the use of these oils," droned the Dr. at the recent San Diego Epilepsy Foundation Educational Conference sponsored by G.W. Pharmaceutical (the company making a CBD product I'm suppose to still be waiting for). He went on to disperse some early, discouraging research that is interpreted to show a placebo effect and doesn't indicate high CBD oils to have an effect on Doose Syndrome. Except my kid with Doose really has seizure control with a high CBD oil. And I know others. What makes science sense doesn't always make common sense. So I don't know what we're suppose to do. . .
Meanwhile, no one knows what to do. And that's the truth. As a hospice social worker and mother of a child with intractable epilepsy I can attest - there are some places mystery refuses to let science in. Despite all scientific and academic rigor, pure and shady intentions, over hundreds of years of best efforts, in 2016 epilepsy still remains a mystery. From the seizures themselves to anti-epileptic medications, neurologists admittedly don't know how most of it works. For all we know, perhaps SUDEP actually is caused by the monster in The Upside Down. We could be waiting a long time for research to capture what we already know (or already know we don't know), couldn't we? I decided to listen to other sources of wisdom - to listen to the ancestors, myself and Spirit. I decided not to wait. I put my 3 year old son on cannabis.
My rich life's journey is not academically or scientifically defined or limited by professional ethics and flawed laws. I am a woman, a mother and healer. These sacred roles are heavy and I feel a need to be unbound to be empowered. Like Demeter, I am not afraid to call bullshit and get angry at the gods or anyone. Like Joyce, I hacked a hole into the wall with Demeter's golden axe looking for a portal into The Upside Down. My path is epic and mythic and I can't imagine how different my son's life would be if I didn't meaningfully connect with these deeper parts of my psyche.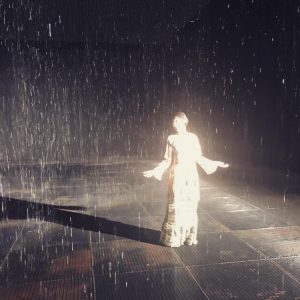 Against the recommendation of every medical professional we spoke to, I started my son on Charlotte's Web in December of 2013. Ten months and roughly 10,000 seizures after diagnosis, my boy had his first seizure free day on Christmas. Thanks to cannabis, battling the monster in The Upside Down is no longer our daily life. Like Joyce and Will at the end of season one, my family is smiling at each other around the dinner table. We are grateful, yet forever afraid of sending him to the bathroom alone. While our nightmare before Christmas is largely over, like Demeter and Persephone, we know we are not out of Hades forever. Over the past 2 1/2 years my son's portal to the underworld has opened every January when he has a couple breakthrough seizures. But at his worse he'd easily have a couple before breakfast. Everyday. Always on the toilet.
I am so grateful for the support and wisdom of all the families who pioneered this bold way of healing for our family - Jason and Jayden David, Heather and Zaki Jackson, Paige and Charlotte Figi, Ray and Emily Mirzabegian, and all the families (now friends-for-life) in our local support group. It meant a lot to me to look a Stanley Brother in the eyes this weekend and thank him for saving my son's life. My prayer is that the resources on this site will empower you on your journey. We know you can do this and are here to help.
Our next meeting is September 17th. E-mail [email protected] for your invitation.